Use Keylogger For Windows To Spy On Your Workers
Have you been wondering how you will monitor your workers when it comes to the usage of work computers? Spyrix personal monitor helps you achieve these goals. It is computer software that helps you to monitor all activities done on your PC. This software is readily available in reliable website. Free trial version enables one to learn most basic features. Full trial version gives one full control of spying all activities feed in the computer system. It is the only sure way to monitor activities of your workers on the PC. Spyrix Personal Monitor is a program that is designed such that it can access most of the activities done on your PC. It contains different features which are designed to perform spying activities.
Keyloggers are very useful when it comes to monitoring each and every single stroke done on the keyboard. The spied keyboard strokes are then stored in a file either externally or internally depending on the type of keylogger used. This information can later be accessed by the administrator where s/he can view all activities done on the system including the passwords. There are different keylogger for windows which are designed to suit best different PC. For any given program to run in a computer, it must be compatible and hence must meet all the required standards. There are different types of Keylogger for windows 7 that ensures ultimate spying in your home PC.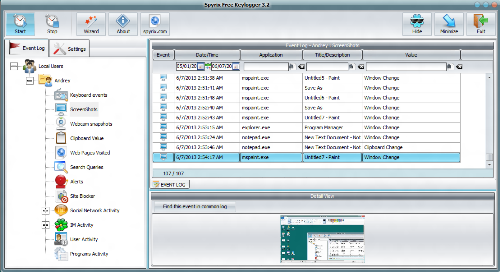 The use of keylogger for windows 64 bit enables you to have full monitoring of your PC. Free keylogger is very efficient as it starts monitoring your PC as soon as it is logged on. Invisible keyloggers spies the user without being identified which helps one get access to important secrete information from your target. Stored information is also protected by a password which helps to keep off unauthorized people from accessing codes recorded. It gives you a chance to monitor his/her target without ever being noticed of arousing any suspicions. Information stored is easily interpretable and requires no professional assistances. However, full download of Spyrix personal monitor comes with a user guide which offers guidance on how to interpret such information.

Choosing an appropriate keylogger for windows is not an easy task as one has to consider level of security on the information spied among other points. There are some keyloggers which are encrypted so as to guarantee security of the information contained. Keyloggers can be used to expose any conspiracy that might be going on in your company. It is highly advisable for one to regularly transfer or clear keyloggers' memories when full as they can slow down the computer or cause regular crashing. In order to ensure that they are always in good shape one should regularly check on them to establish if they are working properly.

Spyrix personal monitor application is compatible with different windows so as to ensure maximum spying. This software is 100% clean as it comes with neither a spyware, adware nor a virus and hence posing no risk to your PC.

If you found an error, highlight it and press Shift + Enter or click here to inform us.