Aobo Keylogger For Mac OS X
– Records all keystrokes type on any applications
– Records desktop screenshot at preset intervals
– Records sites visited from Chrome/Firefox/Safari
– Can record website and application passwords
– Easy and fast installations without admin password
Suitable for Mac OS X 10.4x version or above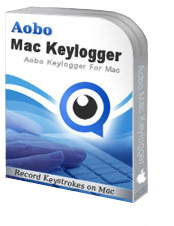 Viewing Logs Remotely
Viewing logs from any place and any device via email and ftp
100% Invisible
100% Invisible for users & Undetectable to antivirus software
100% Privacy
100% Privacy and
security
Easy in use
Convenient and easy in use
Money Back guarantee 14 Days
Keylogger for MAC OS description:
Protect and safeguard your children and teenagers:
Adolescent children are often tempted to sexually-explicit content in the internet or may have online friendship with wrong or dubious individuals. In order to protect them from such exposures, Mac Keylogger can help you to monitor their online activities.
Monitor your business and employees:
Are you concerned about the drop in productivity of your employees in your business or suspect some employee passing sensitive information to your competitors? Aobo Mac OS X Keylogger for Mac can help you monitor the activities of your employees in office. It helps you to take effective steps to improve productivity and weed out the wrong ones in time.
Trace and recover your lost/stolen Mac Laptop:
The downloaded Aobo Mac keylogger can help you recover your Mac Laptop in the event of it being lost or stolen. The IP address will enable you to locate the laptop easily in such unforeseen situations.
Salient Features of Aobo Mac OS X Keylogger for Mac:
Operational/Running Features:
• Besides being easy to install and use, it clandestinely monitors/records and remains undetectable.
• Applicable to all user accounts on a Mac computer
• Does not capture unwanted screenshots when the system is idle or inactive
• Automatically deletes keystrokes and screenshot logs to avoid detection/suspicion
• Custom made hot key, Password Protection feature
Recording Features
• Logs all typed keystrokes in applications and websites
• Logs all websites surfed through Safari/Chrome/Firefox engines
• Logs entered passwords (Only in Professional Edition)
• Log Facebook chat messages or IM chat conversations typed at your end
• Log Skype/MSN/AIM/Adium/iChats (both ends)
• The screenshot capture interval can be preset by user
• Screenshots are compressed up to 60% to save disk space
• Log keystrokes and screenshots in virtual machine like Parallel Desktop,VMware Fusion etc.
• Besides PC, Log reports can be checked on any smart device which receives email like smartphone/pocket PC
Delivery Features:
• All the logs ( including screenshots/websites/chats/keystrokes etc) are transmitted secretly to your email account
• Secretly sends all the logs to your FTP (upload keystrokes/websites/chats/screenshots etc) to FTP space
• Exports chats/keystrokes/website log details as PDF/HTML files.
Compatibility:
• Suitable for Mac OS X 10.4x version or above
• Universal build i.e for both Intel and Power PC
• Supports MacBook/Mac/Power PC/MacMini
FAQs of Aobo Mac OS X Keylogger for Mac:
Q: Can one install Aobo Mac Keylogger on more than one Mac computer?
A: Yes, Aobo Mac Keylogger is also available in Family License or Volume License. One can install the Aobo Mac keylogger on multiple machines as per the License.
Q: What are the additional benefits along with purchase of Aobo Mac Keylogger?
A: Besides getting the software, one also gets FREE technical support from Aobo and FREE UPDATES FOR ONE YEAR.
Q: Are the order/payment transactions safe and secure here?
A: This platform is absolutely secured and hacker-safe. The payment transactions are done here on a globally renowned and trusted online Payment System. Once can be fully assured about safety of transactions done with us here.


Screenshots