50% Of The Parents Who Join In Facebook Are Just For The Sake Of Monitoring Their Kids Online Activities
50% Of The Parents Who Join In Facebook Are Just For The Sake Of Monitoring Their Kids Online Activities
2015-09-24
Recent surveys are revealed unbelievable facts about parents who are joining in Facebook. As per the survey information, 50% of the parents are joining in the Facebook only to monitor their kid's social activities only. Recent survey conducted by the Education Database Online about the social activities and reports on kids and parents, they revealed such a unbelievable fact. Half of the parents are showing interest to join in facebook for one reason that is to monitor their children social activities.
Parents are looking for their children social media network presence and what type of information they are sharing and looking for. Since from the past few years most of the moms are showing interest to join in facebook, earlier this ratio was approximately 50% , but now a day it reached to 72%. This is what shows the moms interest and responsibility to monitor their kids' activities in online, especially in facebook.
Major intention of the moms who are joining in facebook is just to know their kids online participation and with whom they are connecting and what type of conversation is going on in between of them. There are more interesting facts revealed. Moms try to capture the information from their kids' online account, so that they would know about their kids online stature. Various strategies are following by the parents to grab the information from their children's online network.
As per the survey report, 43% of parents are monitoring their children's online presents regularly, 31% of parents are monitoring their children's facebook profile nearly 5 times in a week and 14% are looking sporadically. Only 11% of the parents checking once in a month and 1% of the parents are not monitoring their children online presence. Most of the parents are looking for their children's status in online and what are the updated they are posting. It also include what kind of images, videos or any other information sharing on their walls and others facebook walls. With whom they are tagged in facebook etc.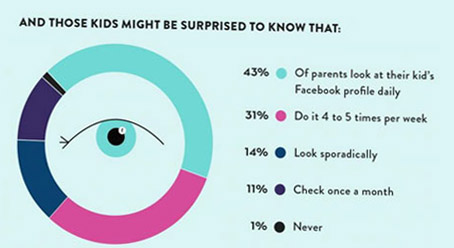 In overall most of the parents especially moms are encouraging their kids social activities by adding tags like, 'beautiful', 'all grown', baby. Whereas dads are intend to tag with 'good luck', 'still', 'game', 'money' etc. Only 1-3 percent of parents are tagging with embarrassed words on their children's wall, in few cases they unfriend their parents too.
Overall parent's participation in
facebook to monitor
their kids is like a good approach and it will give them concern while they wish to place images or videos on their wall. At the same time they know they are under monitor and it will give them to grow their online network in a positive manner. Most of the cases there is no question about children embarrassed by the parents.