A Guide about Parental Controls
2016-01-06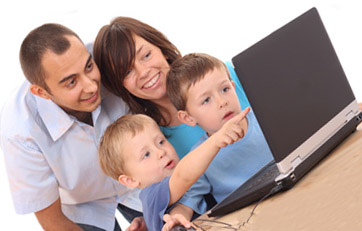 No matter how much time you spend in teaching responsible online behavior and screen-time limits to your kids, it is still a difficult task to handle what they do in your absence or even presence. For making Internet experience safe, entertaining and productive, Parental controls can aid in your efforts. Instead of using Parental Controls for stealth spying, you should use it candidly and honestly in collaboration with your kids for best results.
Knowing that nothing is full poof and the conversations will always help your kid opting for good choices. One can only determine the protection level needed for one's family. Here is an introduction:


Operating systems: OS is the best to begin with. Robust parental controls are a built-in feature in both Apple's Mac and Microsoft's Windows. Maximum benefits can be obtained by using those versions of Operating systems that are highly updated and afterwards every user has to log in under their own profile. Some restrictions are also provided in Android and Chrome for applying under the user profiles of every family member.


Advantage
: The advantage for using Operating-system parental controls is that it applies universally to everything the computer access.
Work with
: Every age group.


Web browsers: Browsers are those software that help go online and provide several methods to block every website which you don't consider appropriate for your kids. You can type specific domains and websites (you can block even an entire category of sites like porn) in browsers such as Chrome, Internet Explorer and Safari that you want to filter out. Firefox has a special feature viz. Prefer:Safe that identifies all the enabled parental controls in your OS and blocks out the inappropriate content during browsing. Content-filter add-ons can also be downloaded for Firefox.


Advantage
: The noteworthy point is that Brower-specific filters are limited to the browser they are enabled for. In case of more than one browser, filters are needed to enable individually.
Work with
:Young Children. Grown-up kids will have no difficulty in disabling filters as it holds well till they didn't figure out the password. It fails too in case they download a new browser.


Kids' browsers: are also known as "Walled Garden". Kid's browser is a Protected environment stuffs your whole screen so that kids are not able to click outside of it. Might be considered as a midway between a browser and an operating system which are specially designed for kids to play games, go through preapproved websites and emails, also  do many other activities. Zoodles, Kidzui and Kido'z, are examples of some Kid's Browsers.


Advantage
: Even though the basic version is usually free but premium upgrade of these browsers cost money (in the form of monthly subscription fee). The companies that provide totally free Kid's browsers include some content which require license from a kid friendly provider. Ads and promotional content may be displayed in free browsers.
Work with
: Very young kids. Older kids require wider internet access so not useful from them.


Computer-software controls: Standard and holistic parental-control programs which allows parents to enforce screen-time limits, block websites and monitor online activity (Shows details of websites that are visited by your kid). A lot of these software provide extra features like security against viruses and malwares plus it sends you a summary of your kid's online activities.Qustodio, NetNanny, BSecure and Safe Eyes are some products in this category.


Advantage
: High initial cost is followed by monthly subscription for these products because of their excellent quality.
Work with
: All age groups. Effective for those kids who need constant supervision.
There are basic parental controls on some mobile devices but the options differ largely depending on the device you have. Even if you won't download anything extra, options for averting unwanted purchases(consisting in-app purchase), putting a restriction on downloading the unwanted content (like M-Rated games), deleting and concealing the apps and functions that you would not like for your kid to use (example video chat). Kindle Freetime parental controls are preloaded in Kindle Fire tablet, a product of Amazon that is growing pretty fast. (Find out how the iphone can be configured for parental control and locking down the ipad.)
Advantage
: All you need to do for adding up the content filter on your child's device is disable the existing browser then find a kid-friendly browser and download it. Another way is to download a content filtering app like Kid Mode: Kids Games and Videos for android, AVG Family Safety for Windows and Mobicip for Apple.
Work with
: Small children. But the older kid will find a way for unlocking the restrictions you have made or minimize its effectiveness.
If you are in a problem about how to limit the access of kids to unwanted content. If the answer is yes, you have a robust solution in the form of Internet router. It is used in bringing internet to your house and software like OpenDNS can help you. The software and router act together to filter internet content
Advantage
: This method blocks the restricted content from entering your house.
Work with
: Every agegroup.
In conclusion all of the methods described above can be quite effective if applied to appropriate age groups. But most of them when used separately do not prove full security for your children and can still leave them vulnerable to one or another dangerous side of the Internet. To put a parent's mind at ease and remove the hustle of using several applications to provide full security it is better to use the all-in-one solutions that are computer-software controls such as free keylogger. They are easy to use, very effective and not that costly. Although if you think about it can you really put a price on your child's safety?