Best WhatsApp Spy Apps
2020-02-07
Why spy on someone's WhatsApp?
Snooping on someone's WhatsApp chats sounds very attractive, but for many people it seems to be hardly achievable. The app is very alluring for tracking, as people are always eager to be aware of what's going on in the lives of their closest relatives and friends.
We know that many people are just dying to know what their spouses or partners are discussing in their WhatsApp chats. We also know that some worried parents really need to check their kids' conversations on this popular app. If you belong to one of these groups, take it easy, you are on the right track to spying on WhatsApp. Just look through this list of the best apps to track WhatsApp activity and choose the one that meets all your needs.
MSPY
MSpy is the first app on this list not just by coincidence. This app offers absolutely complete package of spying tools when it comes to tracking a mobile phone. It can monitor everything, including social media, location and phone calls. Using mSpy, you can track WhatsApp, Snapchat, Facebook, and other messaging apps. The app is compatible with both iOS and Android.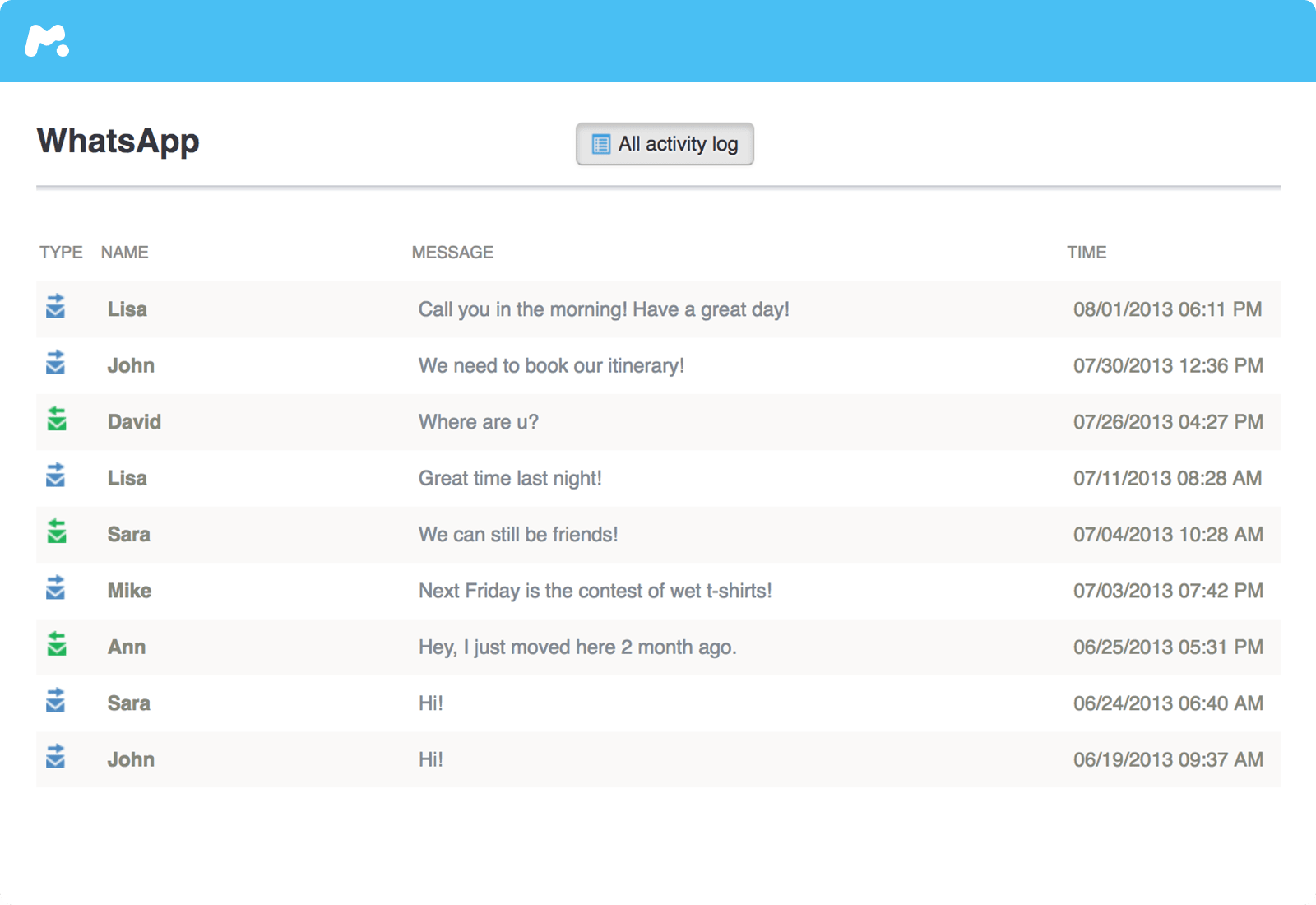 So how can we snoop on WhatsApp with the help of mSpy? First of all, you need to buy mSpy. On the website, you can choose one of the subscriptions and place the order. Then you need to purchase the subscription. When the payment is approved, you'll get an email with the detailed instructions. Download the app and install it on your kid's or partner's mobile phone. Note that to get an access to the premium package, you need to root your Android or jailbreak your iOS device. After installing the app, you can start spying on WhatsApp, other messengers, calls, texts, GPS location etc.
Spyic
Spyic
is another monitoring app that will help you find out what your partner's chatting about on WhatsApp. But note that Spyic will allow you to spy not only on WhatsApp. The app will also show you what your partners or kids are doing on Facebook, Snapchat, and more. Besides, the app offers a keylogger feature, which means that it essentially records every keystroke made by the tracked person, including search queries, activity on the Net, messages to friends and so on.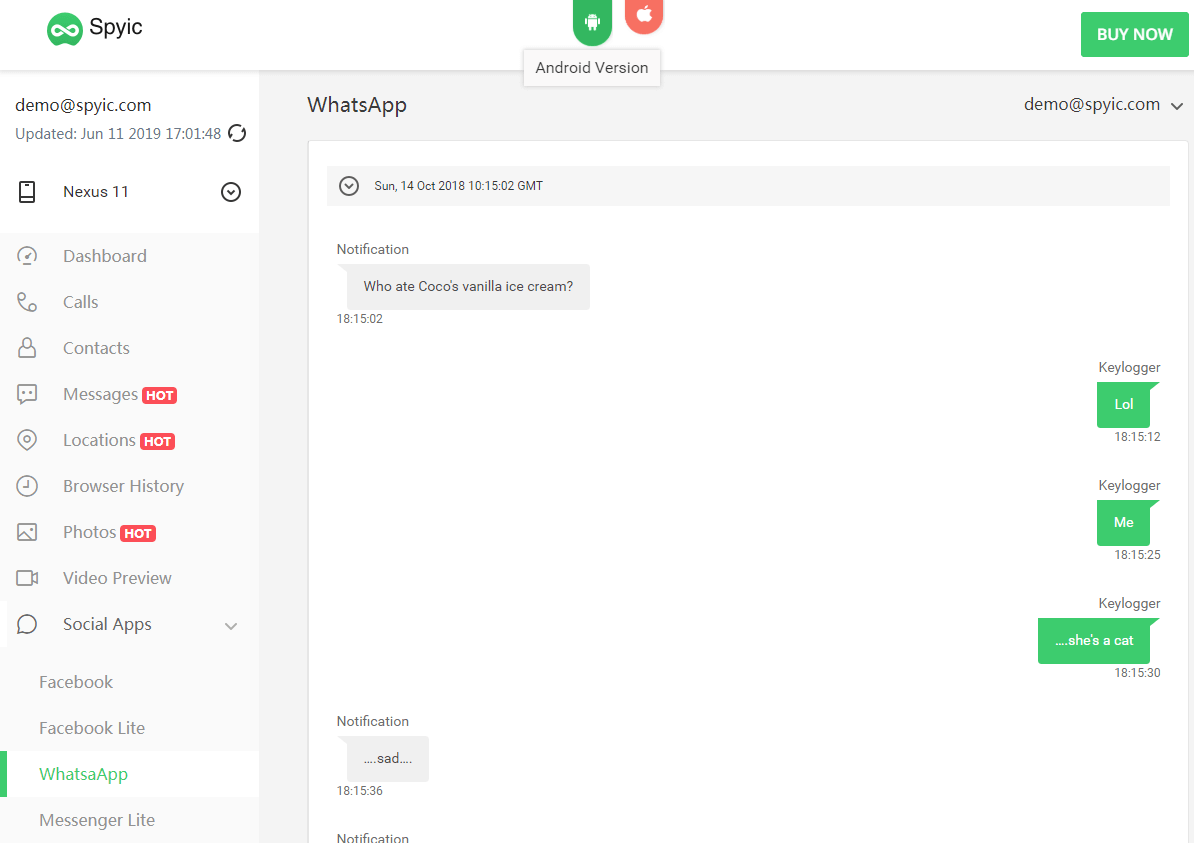 Extra features:


The call monitoring feature will record all calls that are made by this smart phone and accepted by it. It will even identify the caller and show you the duration of the call.


The soft allows you to record phone calls to know what the person is talking about. This is very useful when you already have your doubts about the person.


Location tracker will give you reliable data about the location of the phone. You will know each address the users have visited and exact place where they're located at the moment of monitoring.


If you set a location perimeter for the device, you'll receive an alert when the phone crosses the boundaries.


FoneTracker
FoneTracker
is also a good tool to spy on somebody's WhatsApp messages. It shows messages from WhatsApp that a person sends or receives and indicates the exact date, time and location. You'll be able to read conversations as soon as you install the app. The utility will also help you check the updated status of the tracked person.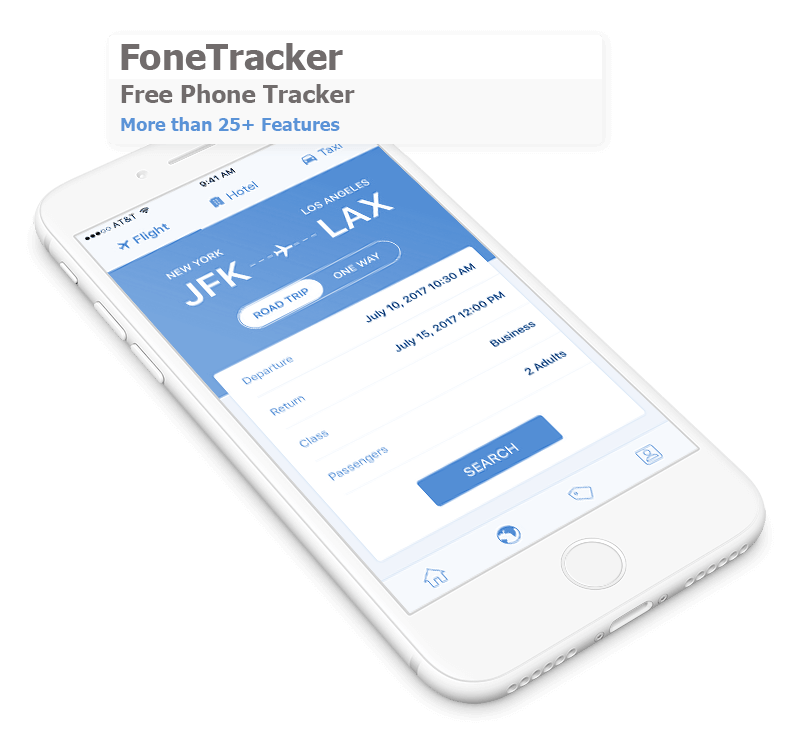 Moreover, it's helpful when it comes to spying on WhatsApp shared multimedia files, including videos, photos, documents, PowerPoint files and others. The app can also track text messages, incoming and outgoing calls, multimedia files, keystrokes, GPS location and activities on the Net. FoneTracker is 100% untraceable.
Cocospy
Cocospy
can get into your partner's WhatsApp and reveal all their data to you. Like the previous apps, it shows you the multimedia files that someone has received and sent via WhatsApp. Besides, it can show you the snapshots that the person has captured from their camera. The advantage of the app is that it doesn't even need an access to the device even a single time. It requires only the iCloud credentials of the user.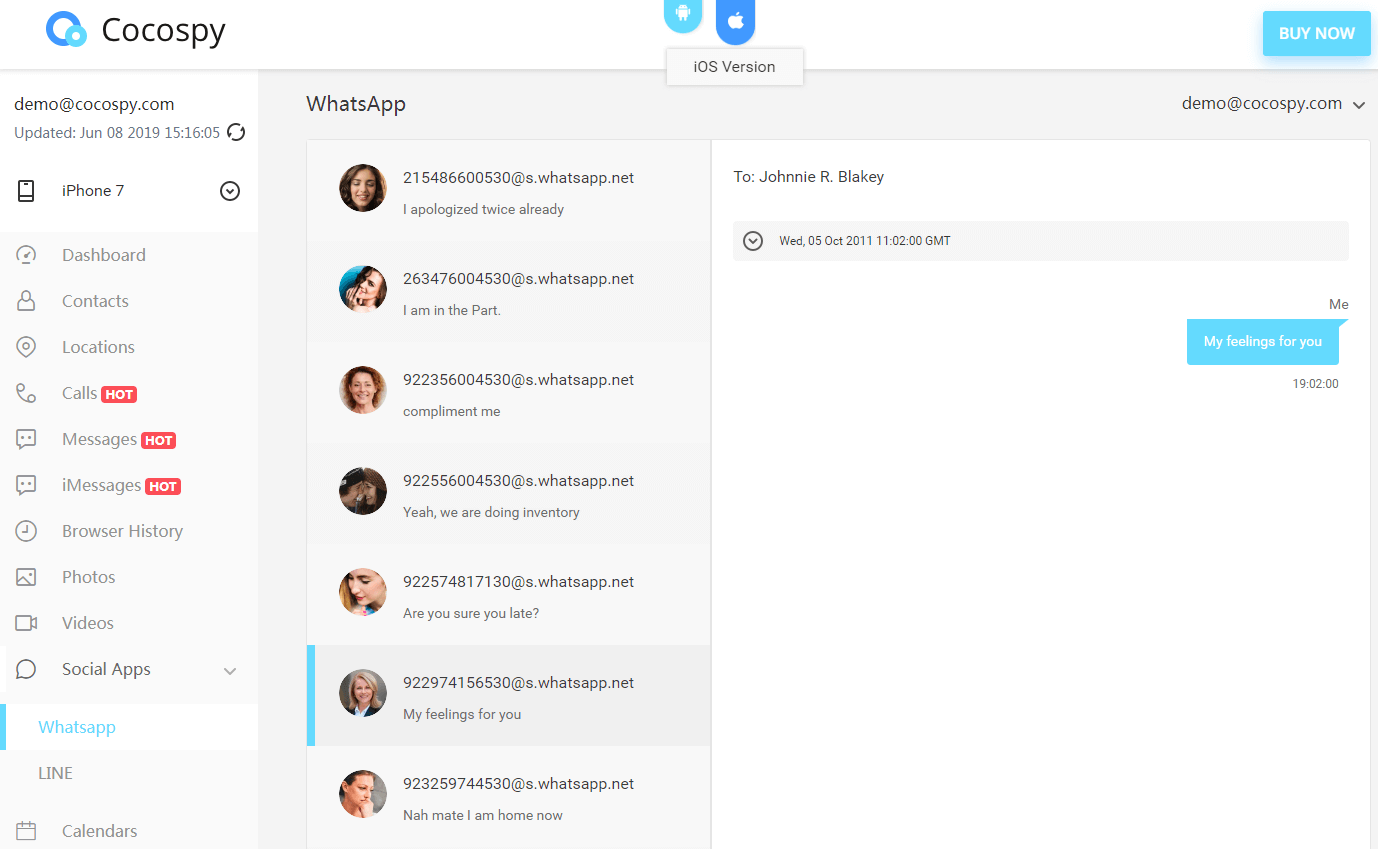 In addition, it will let you read inbound and outbound sms and iMessages and even extract removed messages. It will help you spy on calls made by the target person. In particular, it will show you who your target calls most often, providing you with the time when the calls are made and the information about the contact. Using Cocospy, you'll be able to view all media files on the phone (photos, videos, and audio files).
Besides, the app will help you track your target's browser history and show you the websites visited by the user. If you happen to notice that your kid has an access to some inappropriate content, you'll be able to add it to the black list.
Additional features include:


spying on location;


calendar events tracking;


SIM card information;


an access to the list of contacts.


DDI Utilities
DDI Utilities
is compatible with both Android and iOS and can also help you track WhatsApp activity via online dashboard. To use this monitoring soft, you just need to install it on the target gadget.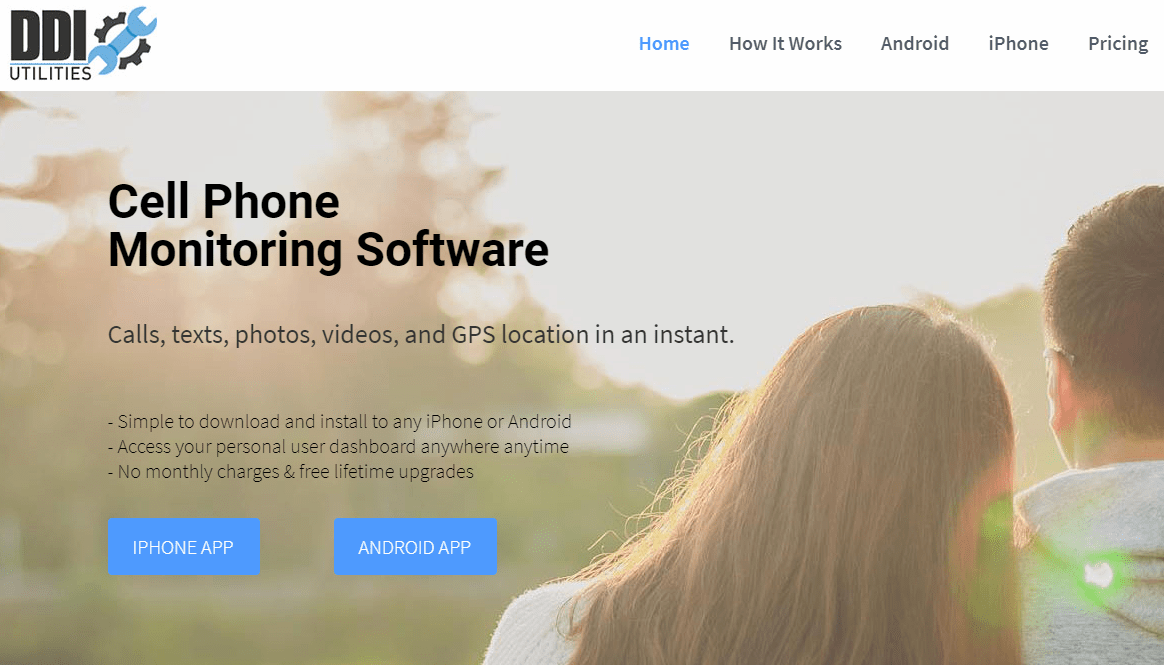 The utility has many useful features. The pro of the app is the fact that it can recover damaged, lost or stolen data from the target smartphone. In fact, it was initially designed to recover the data from you phone in case of water damage, cracked screen, busted buttons and accidental loss of data. But it's also a reliable program to spy on WhatsApp.
Summary
As you see, it's rather easy to snoop on WhatsApp and to get an access to messages, chats, shared multimedia files and snaps if you use a special application for this purpose. There are a lot of spying apps and programs and you can choose the one that will definitely suit you.