Facebook Messenger Spy Apps
2020-02-14
There are many reasons why some people want to spy on another person's Facebook Messenger. This is a short list of these reasons:



Some parents want to keep track of people who communicate with their teenage daughters and sons.


Parents don't want their kids to share inappropriate multimedia on the social apps.


Employers need to ensure their employees are not wasting time chatting on social media.


HR-managers want to check if all the employees are efficient at work.


Some employers are afraid of company data leakage and want to prevent it.


People may suspect their partner is having an affair and need to check it.


The question is: how can we access someone's Facebook chats and read their messages without any technical skills? Luckily, everybody can do it with the help of a special spy app that can track the messenger remotely. In this guide, we will tell you about the best apps to spy on Facebook Messenger and show you their main features.
Spyrix Personal Monitor
Spyrix Personal Monitor
is the best option for you if your target uses computer to chat on Facebook Messenger. The software is compatible with both Windows and Mac OS. It's pretty easy to track somebody's chats on social apps with the help of Spyrix. All you need to do is to install the software on the target device and to register your account where you'll receive new logs from the PC. This means that you won't need to access the target gadget to read the messages, you'll simply need to log in your online account from any device and any place. Besides, Spyrix Personal Monitor has many features and will give you total control over the target's computer activity. It will show you the activity on the Net with search queries, visited websites and web browser history; capture screenshots at a set time period; help you track over 20 popular messengers; control all clipboard events.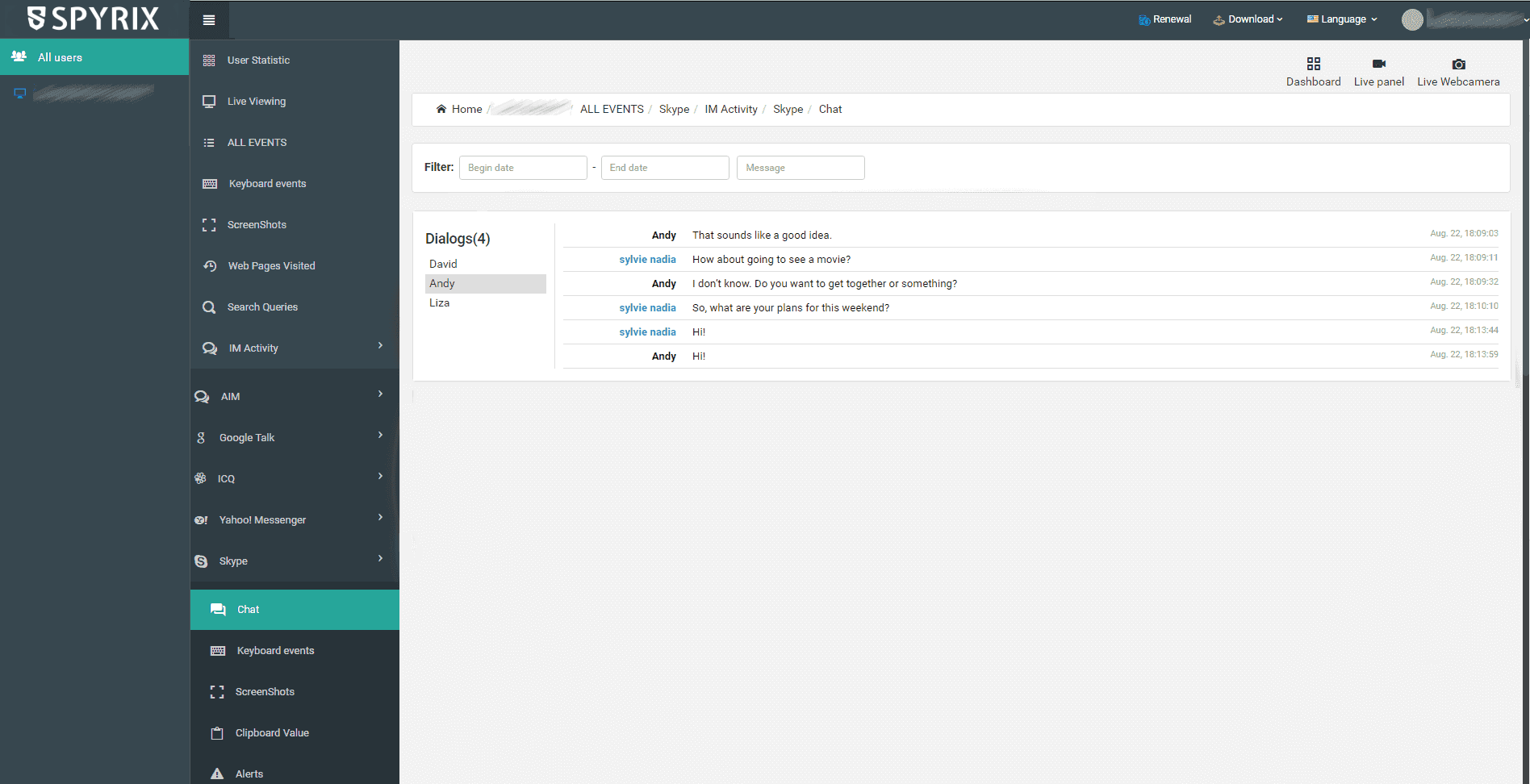 Spyrix is also a perfect program for employee monitoring as it offers analytics module and provides you with smart reports about the users' activity. Other features of Spyrix include:



Hidden operating mode


Alert keywords


Blacklist of URLs and keywords


Printer and removable drivers control


Undetectable to antivirus software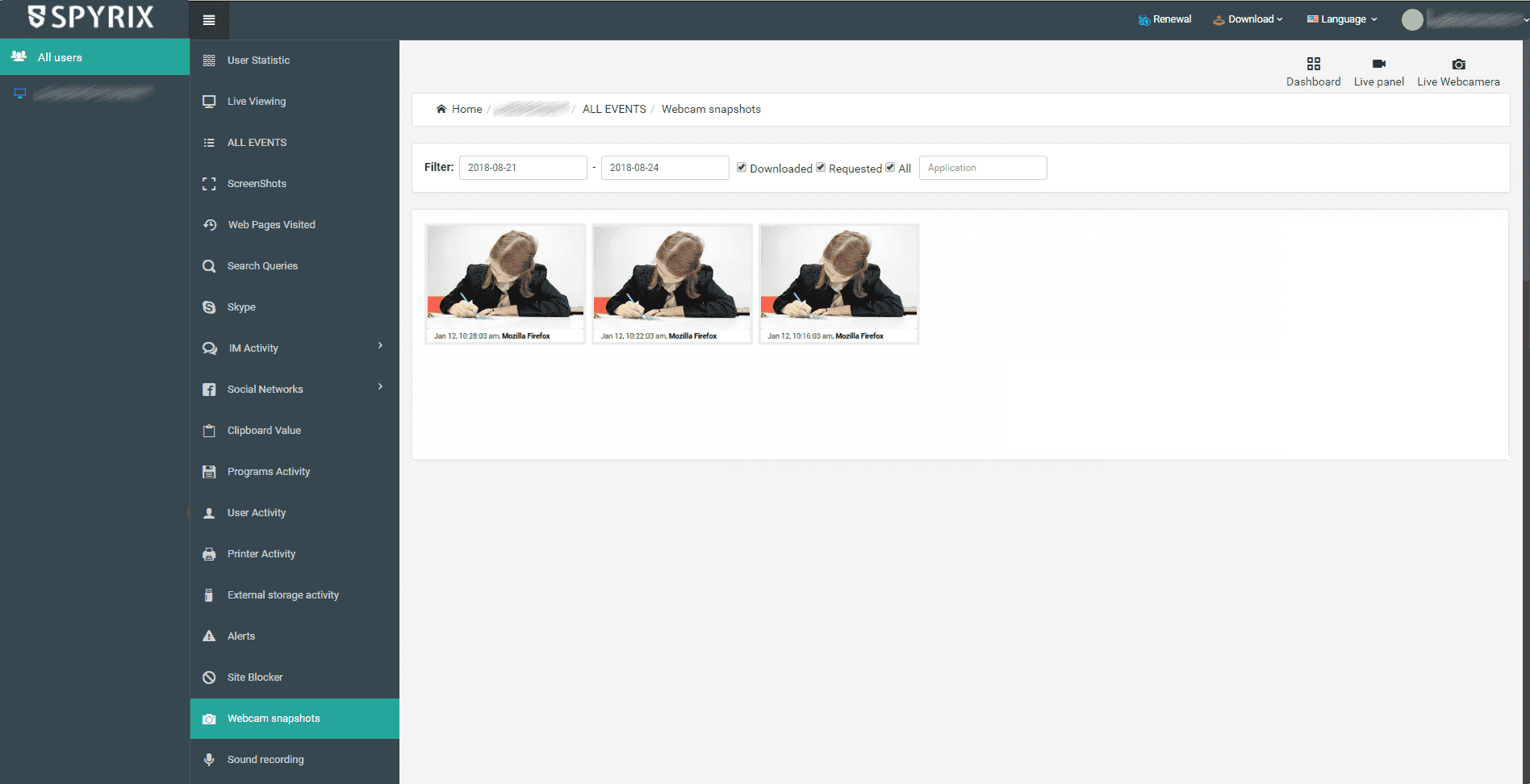 The PRO version of the program also offers web camera snapshots and silent recording via computer microphone and webcam. The software offers a free trial so you can install it on the target PC and check if it meets your needs.
MSpy
This app
will suit you if the monitored person uses a smartphone to chat with their friends on Facebook. The utility is helpful when it comes to parental control. It's rather easy to start tracking your target with the help of mSpy. First of all, you need to purchase the application. Just choose one of the subscriptions on their official website and place the order. After completing the payment, mSpy will send you an email with step-by-step manual. Then download the utility on the target device and log in your online account to start spying on Facebook Messenger. As you see, the installation process is rather easy. Besides, the company offers 24/7 multi-language customer support so if you have any issues with the app, they'll definitely help you.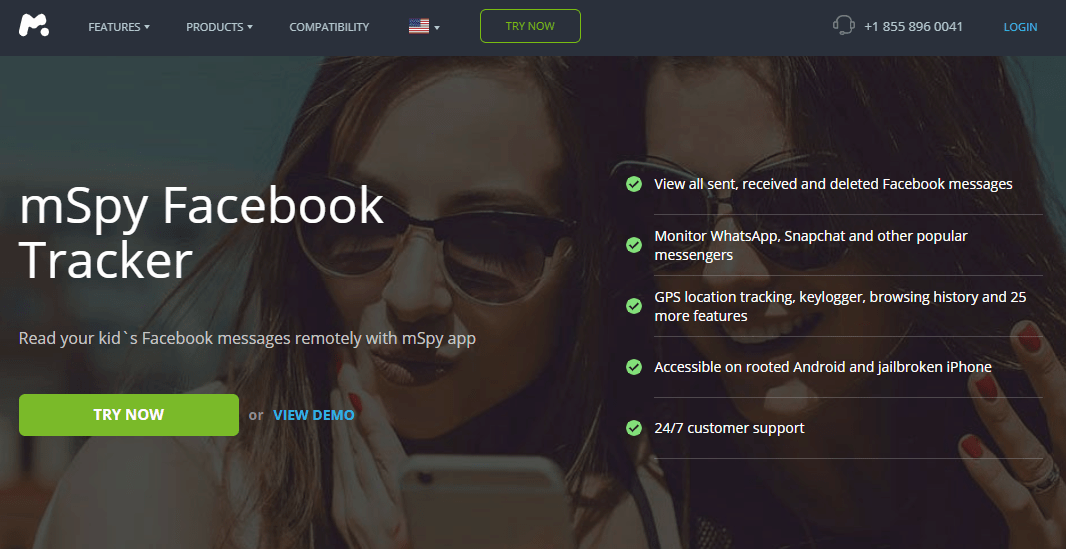 Further, mSpy will help you monitor not only Facebook Messenger, but also Line, WhatsApp, Kik, Instagram, Facebook Messenger, Hangouts, Tinder, iMessage, Skype, Snapchat, Viber, and Telegram. It will also enable you to track phone calls, text messages, location, running apps, and multimedia files. MSpy will give you total control over the user's activity on the Net as it offers tracking of website bookmarks, Wi-Fi networks and browsing history as well as blocking websites and keyword alerts.
Spyera
Spyera
is one of the most powerful spy applications which can remotely track Android and iOS devices. The application will enable you to monitor and record outgoing and incoming phone calls, track social messages, spy on GPS location, capture keylogs, monitor running apps and multimedia files, read text messages and emails, monitor Internet activity.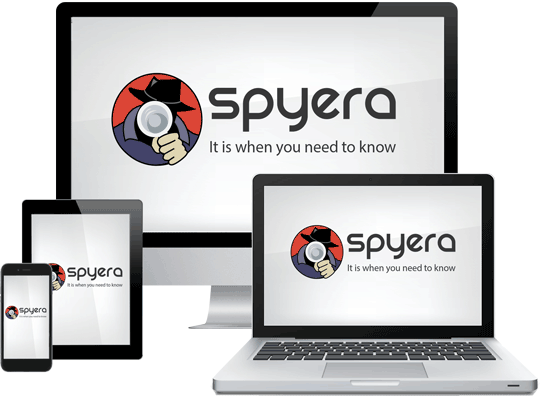 Speaking of the monitoring chat applications, this utility is one of the apps that can spy on all popular social networks. With Spyera, you'll be able to read messages on Tinder, WhatsApp, Facebook, Skype, FaceTime, Viber, Line, Snapchat etc. You'll view all chats with the profiles, locations, status, stickers, emoticons, and pictures. The utility offers 2 packages – Premium and Premium Plus. The latter one records all phone calls and conversations on the social apps and monitors all keystrokes.
Spyic
Spyic
is another app that makes this list. It has many useful features that will help you monitor your kid or your partner. As for Facebook Messenger, the app lets you spy on the target's activity from any device whenever you're are located. Moreover, it can help you get someone's Messenger logins and passwords.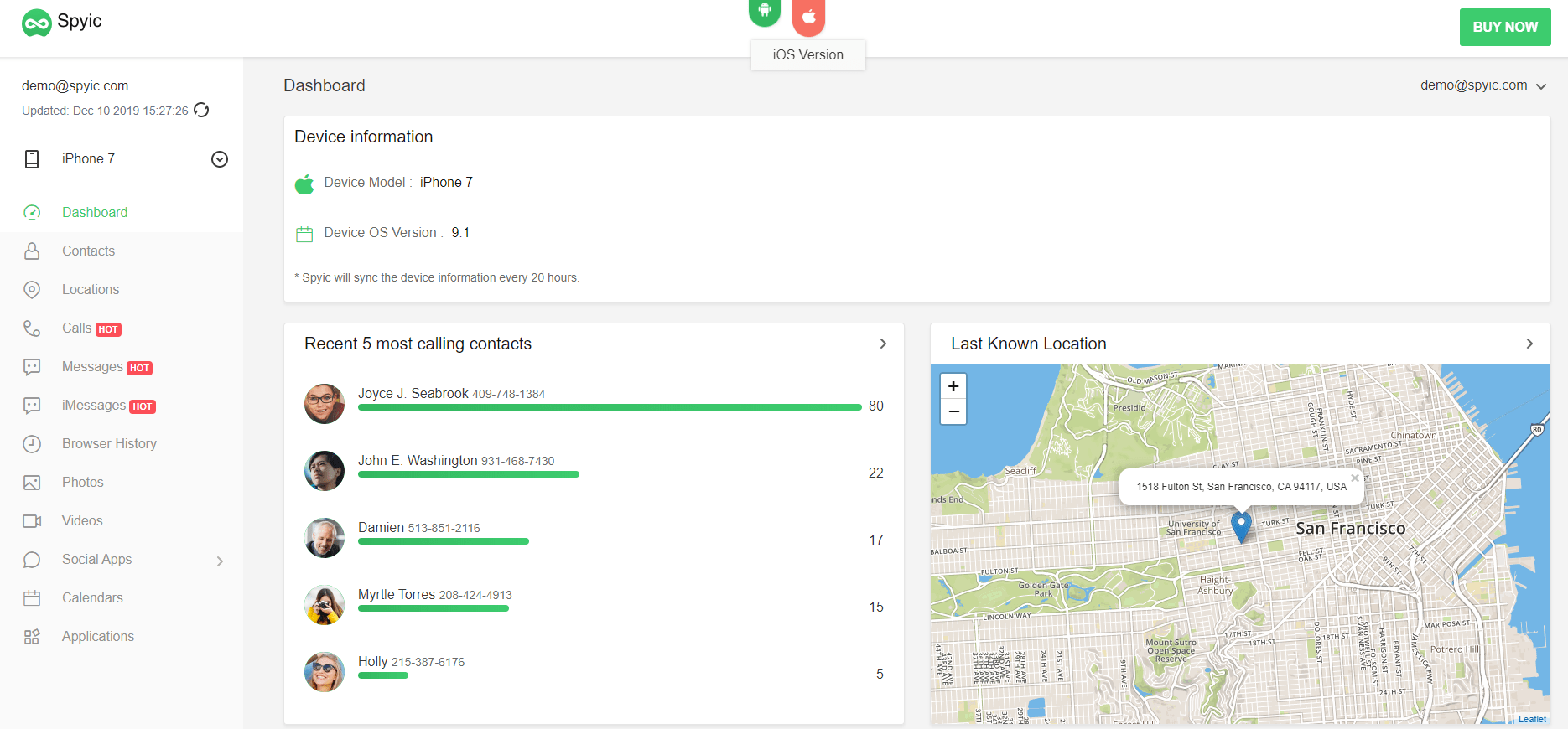 By the way, the utility is one of the apps that can help you hack Facebook Messenger without root. Extra features of the application:



It allows you to monitor your target remotely from any browser.


The app doesn't require jailbreak or root.


Spyic is invisible for the user. The developers claim that it's 100% undetectable.


It has many features including Facebook Messenger spy. This feature helps you read all chats on the messenger, check timestamps, view and download multimedia files and recover the deleted messages and chats.


Mobile Spy
Mobile Spy
can also help you access someone's Facebook Messenger. Unfortunately, the application is compatible with only Android devices. But the app has many useful features that will enable you to track your target. For example, it will help you read all SMS text messages, track WhatsApp Messenger, spy on GPS locations, check phone call details and visited websites, access photos taken by the user, and block unwanted apps from running on the device. Further, the app has a very helpful and rare feature - it lets you watch the screen of the target device in live mode.
The app is perfect for parents because it can set alerts when your kids conduct some prohibited actions, for instance, when they make calls to unwanted contacts. Mobile Spy offers Geo-Fencing feature that will notify you if your kids visit some prohibited locations.
Summary
To sum up, it's rather easy to track somebody's Facebook Messenger. All you need to do is to download a special application and to install it on the target device. Such apps usually offer not only Facebook Monitoring feature, but also geo-fencing, location tracking, call recording, Internet activity tracking and so many more. We hope that this article will help you choose the app that will meet all your needs.