Examen du Spector 360
2018-12-11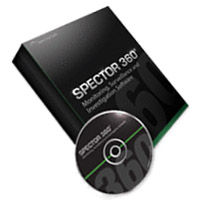 Spector 360 is a cloud-based program. Hence, it is not common software for monitoring employees. Spector 360 is a versatile program in the sense that you can use any web enabled device to monitor employee activity. This is a transparent mode of monitoring with the employee aware of the fact. You have the option of a discreet mode too. Anyway, you can either method for monitoring company activity.
Monitoring Aspects:


Every employee-monitoring system has the ability track the websites visited. They will show you the URLs. You can also know details of the visists.


Spector 360 goes one-step ahead and logs the keystrokes too. This would enable you to track every search. It can also identify the concerned employees.


There is a provision to alert you when they visit restricted websites, or social media network. They even alert you when they enter specific keywords.


You can check whether employees play games online, browse for other jobs etc using the Spector 360.


Online Monitoring Aspects:


You can monitor the chat as well as email messages to ensure there is no leakage of confidential information.


You can have access to information about the accessed files and attachments to emails.


Using the keystroke logger you get to know the message content. Hence, you are aware of the activities of your employee.


The program notifies you in case of deletion of data.


It also gives you a notification about retrieval of deleted data.


You get a notification when the employees save any data using pen drives etc.


This monitoring program can track the time of printing of documents. It can also detect the computer used for doing so. It can identify the employee account too.


Hence, it is not possible for an employee to leak information.


Reports Aspects:


This is a real time program. You can see the activity live. The program can record screenshots and collect information. This information is kept safe in the cloud. This enables you to view the information at leisure and do the requisite analysis.


This program can track the presence or absence of the employee as well as inactivity. It can show whether the employee is actually working on the website of has just kept the page open giving the impression of doing work.


This is a unique feature of Spector 360.
Control Functions:


Monitoring employee activity is essential.


Spector 360 does something extra in the sense that it provides you tools to take temptation factor out of the equation.


You can filter as well as block illegal sites.


You can setup alerts to warn employees of such violations.


You can set time restrictions on computer applications. You can do the same with websites too. You can allow or block access depending upon the website in question.


Support from the Company side:


This program does not offer live support of chatting.


It does not have a lot of tutorial material as well to help you for troubleshooting.


However, Spector 360 is a user-friendly software and simple to install.


You can access Spector support on their official website as well as through their emergency phone numbers. Email support is available.


You can learn a lot by going through the FAQ on the website.