How to Record Webcam Videos Remotely on Windows and Mac OS?
2020-03-24
Why Record Webcam Videos Remotely?
There are several reasons why people may need to record videos via webcam remotely. First of all, webcam recording is one of the ways to monitor your employees. Such recordings may help you prevent data leakage and improve your staff's efficiency. Besides, most parents need to know what exactly their kids or teens do at home in their absence. You may also need to record secret videos and to keep an eye on your home while you're travelling.
Multifunctional Software
One of the most popular programs to record webcam videos remotely is Spyrix Personal Monitor PRO. This software enables you to turn your computer webcam and microphone into reliable surveillance equipment and to record video, audio and capture snapshots. To turn you computer into surveillance tool, you need to download the program from the official website.
Once the download is finished, click on the downloaded file to run the installation. After the installation, you'll be asked to register your email. You'll use this email later to access to your online dashboard and to receive logs from the target device. Once you activate your account and complete the installation, you'll be able to record webcam videos remotely from your secret online account.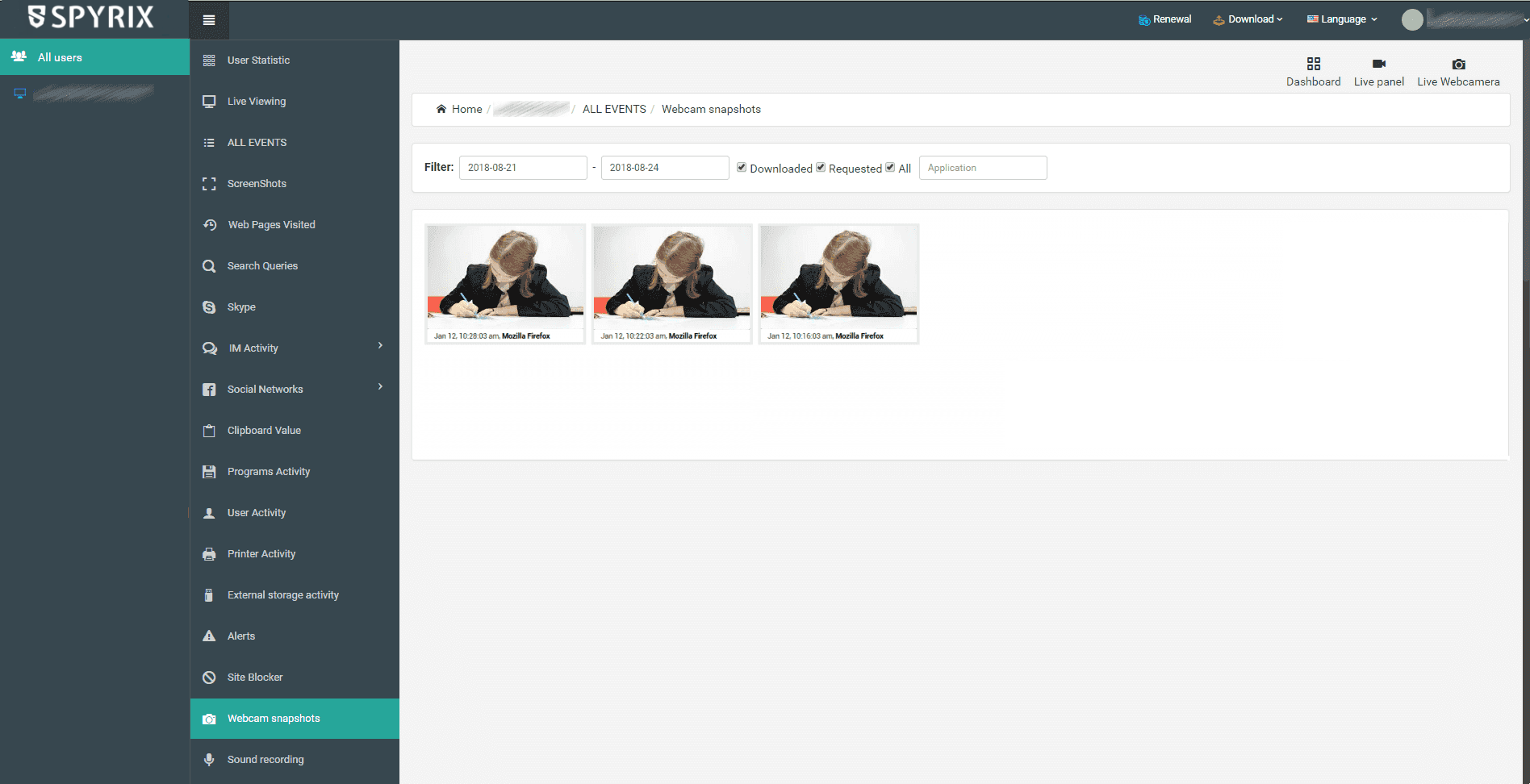 Note that the software allows you to track up to 5 computers simultaneously. If you need to spy on more devices, it's better to choose Spyrix Employee Monitoring which can monitor as many as 500 PCs. Spyrix programs are compatible with both Windows and Mac OS. Further, the software is multifunctional, which means that it offers many features for remote monitoring. For instance, the software records all kinds of activity on the Net, including search queries, browse history and visited websites and URLs.
In addition, Spyrix enables its users to track the most popular messengers (Facebook Messenger, Viber, Skype, WhatsApp, MySpace and many more). The software monitors USB drives and print activity and records all keystrokes and clipboard events. For parents' convenience, the app offers website blocking feature and alert keywords setting. Other features of the software include:


screen recording;


stealth mode;


watching the screen in live mode;


undetectable to antivirus;


remote settings and uninstallation;


screenshots capture at a set time period.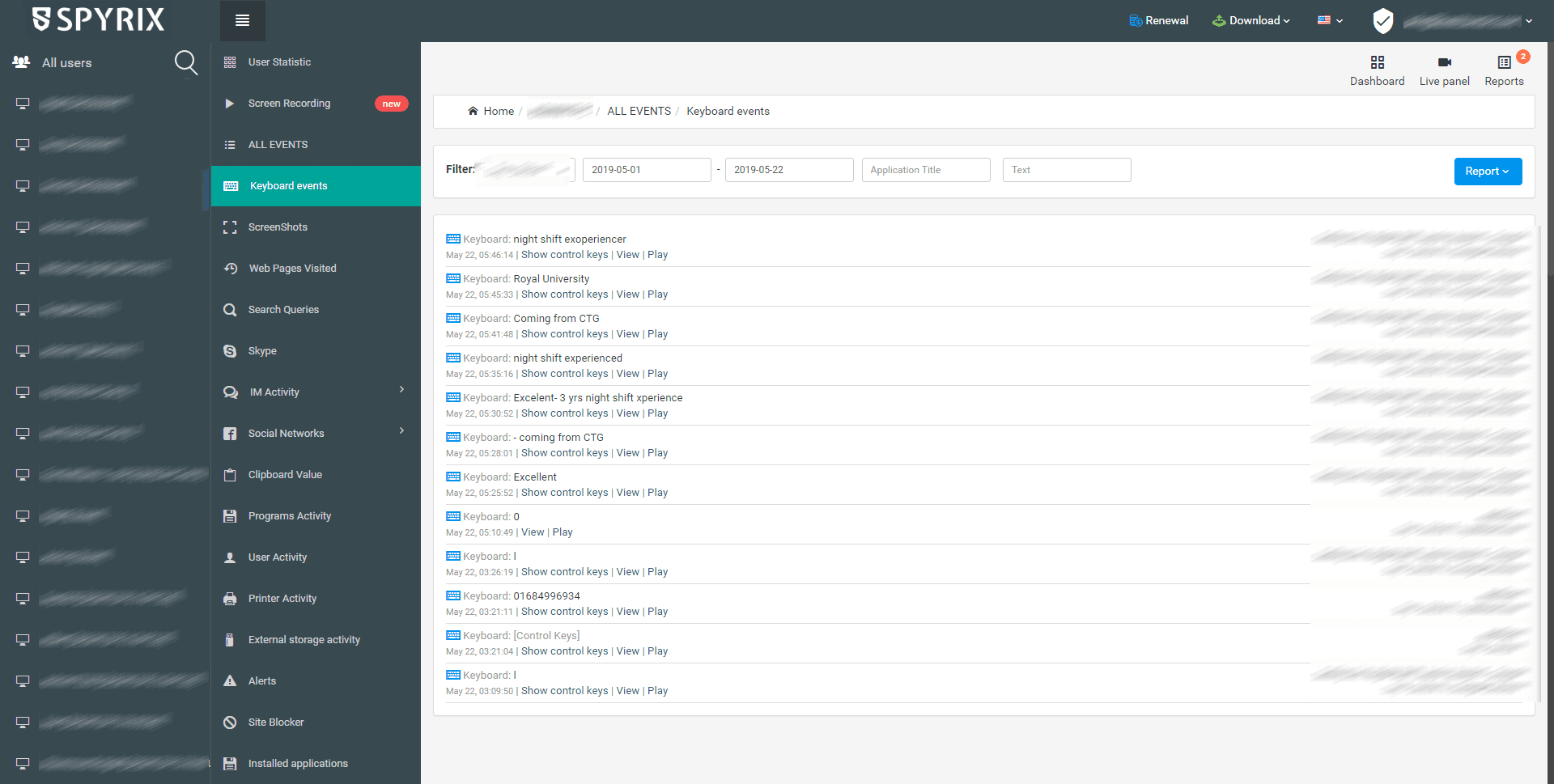 The programs offer a free trial with the help of which you can decide if the software meets all your needs.
Webcam Recording Software
ISpy
is a popular surveillance software which is compatible with most cameras including web cameras, USB and IP based cameras. Besides, it offers remote audio recording feature. Like Spyrix, iSpy has a web interface that you can use to access to your web cameras remotely from different locations. You can also add some extra features to your license to make your monitoring process easier. Some extra features are license plate recognition for outdoor monitoring, text overlay, barcode scanning and many more.
ISpy can even detect motion and record the following movement. The surveillance tool will notify you via SMS, Twitter or email, when it detects motion. So you can quickly sign in your account and analyze the situation.
Note that the software has no limits to the amount of recording that can be stored locally on the target device as long as there is free space. If you need to upload the recordings to the cloud storage, you'll be asked to purchase a subscription. With a subscription, you can upload your files to Dropbox, Google Drive and YouTube.
Use Skype to View the Webcam Video in Live Mode
If you have Skype installed on the target computer, you can use it to record webcam videos remotely. This method will suit you if you want to control what's going on at home while you're absent. First of all, you need to sign in to your Skype account on your home computer. Use the hotkey "Windows key + C", select Settings > Options > Calls.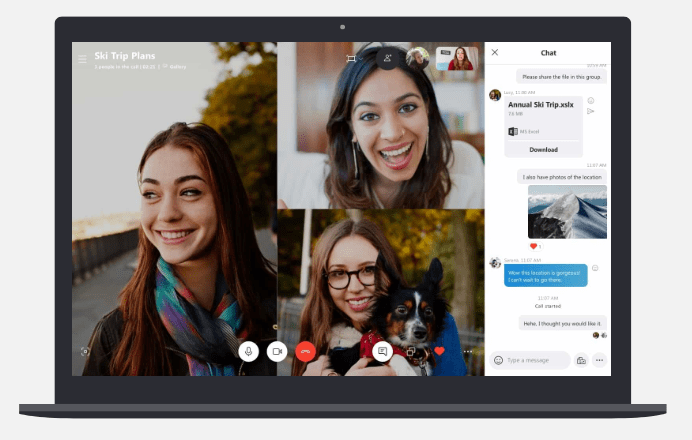 Setup Skype so that it answers calls automatically and turns on video automatically. To do so, simply change both sliders under the "Calls" feature to "Yes". After following these steps, you'll be able to call your home Skype from work and to watch what's going on near the PC. Note that it's better to create a separate home account that only you can access as Skype will accept calls from every person who will call you.
NetCam Studio
This software
is another well-known tool to record webcam videos. The program can also send notifications to your online dashboard or an app for a smartphone. The same dashboard or app may help you access the web camera and to start recording. The speed and motion detection features mean that the program will begin recording only when necessary. Besides, the system can record audio even when it doesn't record video.
Overall, these easy-to-use programs will help you track what's going on near the target computer. It's rather difficult to decide which method is better for you. If you need a total control over the target device, we advise you to install multifunctional software such as Spyrix. If you're interested in a simple webcam recording feature, it's better to use iSpy or NetCam Studio. Provided that you don't want to install anything on the device, you can track your home or office via Skype. We hope that you'll find the software that will meet all your needs.