Keylogging
2013-06-06
Keylogging from Spyrix: The Best in Ensuring Proper Work Performance
Spyrix Personal Monitor has come up with various programs which have been engineered to cater for your monitoring needs. One of the programs that have been established is keylogging. This is a program whose functions have been enhanced in comparison to the past. Therefore, tracking of keys that have been struck on the keyboard has become easier and faster. With this program from Spyrix, it does not matter the time when the activity you want to track occurred. This is because retrieving of the action that occurred on the keyboard is possible regardless of the time that lapses. For those who are running a business and want to verify that employees are performing their duty as per expectations this is the program to acquire.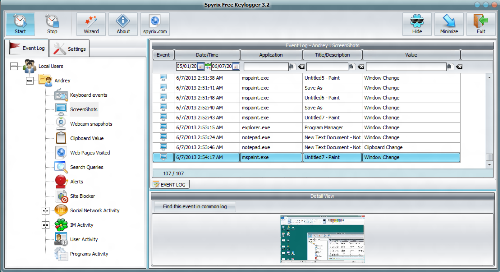 Spyrix Free Keylogger
enables monitoring the action on a key board without the knowledge of the person using the key board. This is advantageous to a person running a business whose success is dependent on employee performance. With this program one get to ensure that the employees are adhering to their duties without wastage of time by involving themselves with other activities. Since time wastage is controlled, there is smooth running of operations and the business will be able to reach its target. This is possible because the system ensures that there is no under performance.
Keylogging has come at the right time when technology has grown a notch higher. With the growing usage in social networks such as Twitter and Facebook, performance of duties in work places has significantly reduced. This is because a lot of time is wasted on the internet where employees are spending so much time on social networks just having fun. This program also helps to monitor the activity of the internet. When employees open restricted site on the internet which hinders with performance of their duty one is able to know thanks to this system. It can be said that as a result of this program from Spyrix performance of duties in work places is slowly resuming to normal. This is in work places that have employed use of this program for Spyrix.
Keylogging works by detecting the action of words which has been entered on the key board. This is because the system supports coding of words termed as black lists words. When the user enters these words on the keyboard, this program automatically detects the words which have been entered. Immediately the system produces a report. This report is inline with the amount of time which have been spent on the site which have been black listed.
The amazing thing about keylogging is that it supports all kind of site monitoring. The system is easy to operate and do not require any skill. Even when one is absent the system functions independently. Such that regardless of the time that passes the system is able to generate a report of the amount of time spend on a particular site. Thus, to ensure that there is proper performance of assigned duties people should incorporate this system from Spyrix.