StaffCop Standard Review
2016-01-29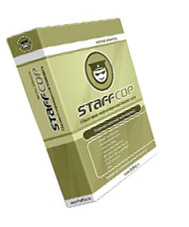 Installation:
It is very easy to install this software, StaffCop Standard using the following steps. The first step is to choose the installation language from five prominent languages. Select Welcome and proceed to select the destination folder. You will encounter an Additional Options tab.
The options are very simple. You only have to understand the 'Additional Options' screen. The program seeks your permission for installation. It seeks your permission to install the scheduler and create a desktop shortcut. Now the software is ready to install. You can proceed for installation.
At the end of the installation, it will ask for your permission to launch or reboot. It is advisable to restart the computer for the program to take full effect.
Interface:
The interface of this software is user-friendly. Its window has two sections. The left side comprises the list of PCs installed. You can view the PC information on the right side. The program uses sections to log this information. You can switch between them by using the requisite tabs.
Operating System compatibility:
The website of the StaffCop Standard states that the program is compatible with all operating systems. Random tests have confirmed this fact.
Security Aspects:


This is invisible software.


You have an option of using password protection.


You have the option to set warning messages on the individual PCs.


StaffCop is useful for remote employee monitoring. You can monitor his activity from the installed PC too.


Monitoring Aspects:


The software can log all pressed keys and clipboard content. It can record system log on/off times too. You can have details of applications started. You have access to the printed documents as well.


The Keylogger can record creation and deletion of files, but does not monitor other aspects.


The program can make desktop screenshots of all PCs. You can monitor the quality of the screenshots as well. You are aware of the period of making the screenshots.


You do not have the option to set up the program to take screenshots of active windows.


Online monitoring aspects:


With the help of this software, you can log the details of URL's visited in each browser.


You can intercept both outgoing as well as incoming emails.


This software can interpret chat conversations in all messengers except AOL.


Reports Aspects:


The system allows for copying of the log files to a pen drive or sending thru LAN.


It does not send emails or uses FTP.


It is apt for employee monitoring. However, there is room for improvement by sending files thru emails or FTP.


The program can log the events' duration. It can make good diagrams too to assist in analyzing time spent by users in their PCs.