Monitor Your Internet Usage Effectively with 5 Free Windows Programs
2015-12-28
These days, internet service is available in many homes but you have to use it every month under the bandwidth quota. It is important that you never exceed such limit otherwise you will be charged with a premium rate. You should not be too surprised to experience slower internet speed once you exceed your quota. Most internet providers will slow down the speeds to dial-up levels. This is when internet monitor programs comes into play. They will help you monitor the usage of your internet easily.
There are many students out there with a limited budget when it comes to using an internet service and the following 5 free Windows-based programs to help you monitor your internet usage would be great options for them. Feel free to read the rest of this short article to find more details.
1. Cucusoft Net Guard
This Windows-based program comes with a clean user interface and you shall find no difficulty to understand it. During the installation of this program, make sure that you provide an email address. This register requirement will lead you to a free product code. Once it is installed, you can set reminders on your monthly quota. It allows you to start tracking your internet usage more easily. More interestingly, you can also see what programs are connected to the net.
2. NetWorx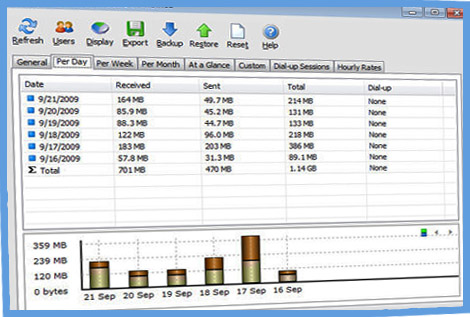 This program comes with an icon on your taskbar that indicates the internet usage monitoring is in progress. In order to launch NetWorx and view the current internet usage in graphical statistics, you can simply click the icon. Not only that this program allows you to set a daily and weekly monitor, you can also watch your quota usage monthly. Make sure that you set the peak usage feature on this program so that it will remind you when you approach your limit.
3. NetSpeedMonitor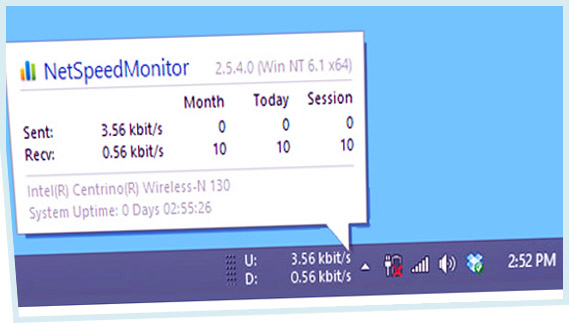 You can watch the speeds of your download and upload because this monitoring program sits on your taskbar permanently. You can simply right click on the taskbar and find the NetSpeedMonitor under the Toolbars. In addition to its connection speed monitoring, you can also use the program to monitor your daily usage. One thing missing about this program is its quota reminder. You can easily reveal which programs connected to the internet and this program also offers monthly usage monitoring service.
4. ISP Monitor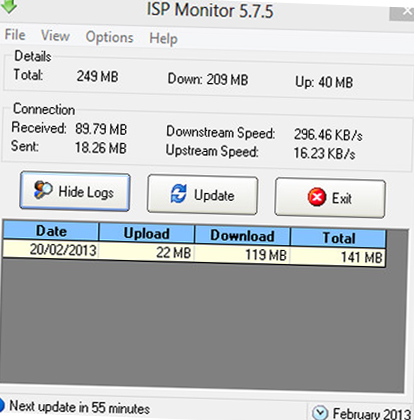 This lightweight program can easily monitor your daily and monthly internet usage. Sadly, this would be another free Window program to monitor your internet usage that comes with no quota reminder but it does come with easy-to-read logs.
5. BitMeter 2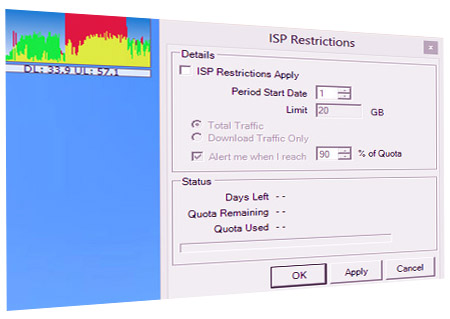 In order to see the speeds of your download and upload activities, BitMeter 2 offers a desktop widget meter graph. It also comes with ISP Restrictions, which is a similar feature in NetWorx that you can use to add a quota limit. You need to set this feature to help you monitor your bandwidth quota. BitMeter 2 allows you to track your hourly, daily and monthly internet usage.